H-14
PERFORMANCE
RIBS
/
MODEL
AX
500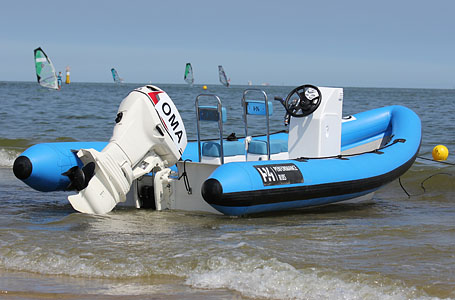 Our company specializes in building working ribs and leisure ribs with multiple options for interior design. All models are designed with large V shape at the bow to improve their seaworthiness.
AX500 is a rib with great bottom design, without a doubt one of the world leaders in its size. It is a lightweight and maneuverable rib designed for those working at open sea and inland waters (sailing coaches and sea guards). Large space inside the cockpit makes it unique on a world market. AX500 is also often chosen by families as a small leisure vessel.
Basic features:
big V in the bow,
narrow tube with a diameter of 300mm - 450mm giving slender appearance to the entire hull,
redans at bottom for fast planning,
reduced resistance through redans,
lightweight design,
individual choice of fittings in cockpit: two seats, single seat, or helmsman seat plus coach box / box-seat (* see accessories section).
AX500 is an economical model with excellent seaworthiness. It is ideal as a coach boat. Narrow tubes leave plenty of room in the cockpit. Perfect for comfortable tourist trips. A true leader in its class.
Each H-14 RIB is made specifically to order! Decide on the number and configuration of seats and available colors of hull and tubes. We will finish it according to your order.
---
---